At this time of heat wave, nothing better than to enjoy a good iced coffee to invigorate after a hot day. The recipe that I propose today is both very easy and very fast to achieve. You only need 4 ingredients: coffee, cold milk, brown sugar and ice. Without waiting, here is my recipe.
List of ingredients :
An espresso coffee
3 teaspoons of brown sugar
Half a cup cold skimmed 1/2 milk
Crushed ice
Preparation time: 3 minutes⏳
The preparation :
The preparation is really simple:
Add the crushed ice to a cup.
Put the brown sugar and the milk over the ice.
Place the cup in the fridge while you prepare the coffee. I always prepare the sweetened milk with ice just before pouring the coffee because it allows to dissolve a little more sugar. Indeed, at low temperature, which is more in the milk, the dissolution of the sugar is a little slower than in water.
Prepare your coffee and pour the coffee into the cup which contains the cold sweetened milk as well as the ice cream. Personally, I prefer pouring coffee into an espresso cup before transferring it to the cold milk. This makes it easier to measure the extraction.
Mix.
Serve, it's ready, you'll see, it's very good. 🙂
You can use vegetable milk instead of cow's milk. The preparation is the same, only the taste will be different.
Tip: If you have an electric milk frother of this type, you can froth the milk in the "cold" position with the sugar. The latter will be much better dissolved in the milk but also, there will be a little foam which will make the preparation all the more enjoyable.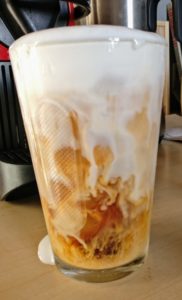 Find my other recipes on coffee here.